Dear Fellow Rotarians,

1. We had an extremely good fellowship and informative joint meeting with our Rotaract Clubs 2 weeks ago where we had a total of nearly 60 persons attending including Rotaractors and visiting Rotarians from the District Conference Organizing Committee. I and Aris nearly had to share one meal because Venetian had run out of our ordered food. Luckily they had one vegetarian meal stand by. We celebrated the November birthday boys – Fred was among them but Alfredo was not there. The total of the $3,000 box collection went to our Guangxi Project with the Rotaractors.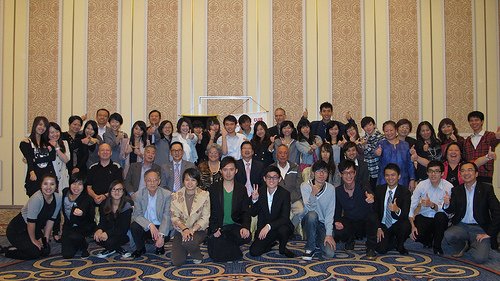 2. Last Thursday, we invited Rev. Thomas Dunseth to speak to us on the works for the deaf and mute. I learnt a lot and had a clearer picture now. I always thought that the sign language is just one universal sign language. I did not know that there are so many different sign languages for the British, American, German, Chinese …..etc., even the Chinese sign language is different for Taiwanese, Hong Kong, Macau and the Mainlanders. When I saw less deaf & mute students in special schools, I thought that the born deaf rate had been lowered not knowing that they have been put in the mainstream schools. How ignorant I was!!!!!!


3. If you want to learn more, come to our next meeting this Thursday, 1st December, 8 for 8:30pm at the Venetian. PP Gary Ngai had visited Goa recently and he will share with us with his impression on Goa, in comparison with Macau.

4. It is confirmed that our Christmas Party with the mentally handicapped and their families will be held on 7th December, Wednesday, 7:00pm at the Venetian. Please note that the party will start a little earlier because of the kids. This will be our 12th Christmas with the kids and thanks to Venetian, we have their continual support, and thanks to Pres. Keith who has been trying to put fertilizer?? to his beard everyday to make them grow faster and stronger, to be our Santa Claus and Rtn. Elvo to be the MC for the night. Please bring your families and friends and let me know the no. of attendance in due course.

5. We will be visiting Guangxi again with our Rotaractos on 26th ~ 29th December. We will visit 3 primary schools, 1 middle school and visit villagers this year. Together with our Rotaractors, we will give students clothing and shoes, biscuits and sweets, eggs for their lunch and we will have lunch with students at the schools. We will also bring bottles of cooking oil when visiting the villagers. We are planning to visit 50 families. The Rotaractors will go there by coach and there are 5 seats reserved for Rotarians. Choi and Fatima will take the coach and Kazu will go by air since he had a back pain and cannot take a 12 hours ride in a coach. Those who would like to join, please let me know asap. I do hope Kevin can join again this year so that we can bring our mobile dental unit with us to give dental care and treatment to the students and villagers. Please find attached the picture of the footbridge we did earlier for the students there. The bridge bears our name, the Rotary Club of Macau in Chinese.


6. Though this mail is a bit long, I hope you find it informative and read till the end. I was encouraged by Maeder when I received his mail saying, " I do enjoy always your infos". I am glad that Maeder will be coming to our meeting on 5th January 2012 and he is looking forward to be part of us latest after the Chinese New Year of 2015. Hurrah!! Only 3 ~ 4 years to go!!!

I look forward to seeing you all this Thursday.

Yours in Rotary,
Stella