I hope most of you have recovered from the ' Flower Power' fever after  a marvelous evening at our 69th anniversary charity ball last Saturday.  So happy to see most  dressing up in ' 60's/70's flower ' style and dancing with heat and beat to the fantastic music of the ' Blue Note 'band amongst 400 present . May I also repeat my vote of thanks expressed during the evening to all of you  , present or not , in supporting with the 5 or more ball tickets purchase,  cash/prize/wine  donors solicitation  and performers invitation without which our district-famous anniversary ball would not be so successful.  Facebook was swarmed with endless of our photos from all sources.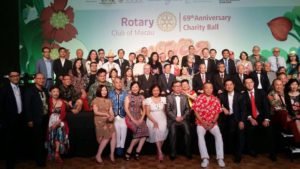 My heartiest appreciation also  goes to our super Ball Chair ' Big Sam' and his tireless and creative organizing committee, our MC duo Elvo & Geraldine , all our Rotaractor volunteers and to PP Guy too for the Streetmosphere pair which got more photos snapped than the host club 😛 . Please excuse me if I have inadvertently missed out any one as it is again a BIG  THANK YOU to everyone and for bringing your guests too for a very memorable fun evening . Ball Chair Sam will be writing to you separately with some update on this Ball's financials . 
Pity we miss some of you who were engaged in the Patau show same evening. Congratulations as heard it's another roaring success. Hope next year our dates won't overlap..
We had nearly 20 visiting Rotarians from our  sister clubs RC of Taipei and Makati North as well as RC Taipei son club RC Taipei Diamond coming to congratulate us and we had a very good fellowship lunch with them the next day.
You may also note that our Honorary Member  Consul General Ambassador K Matsuda specially came with his wife and it was so nice to see him on the dance floor enjoying our club's signature  fellowship style.
Oh, one more congratulations to PP Synthia for winning the 1st Prize of one  free night at Wynn Lakeview Suite plus Turbojet tickets! Lucky you !
See this article in the Macau Daily Times
This

Thursday 
May 12 Club Meeting@ Macao Tower 3/F., Lua Azul Chinese Restaurant@8 for 8.30 pm
We have invited Rotaract Adviser Elvo to speak to us on ' Behind the door of the Therapy Room' so come and listen to   his sharing of this intriguing topic. Our venue is changed to Macao Tower,  Lua Azul Chinese Restaurant ,
8 pm
for
8.30 pm
.
56th District Conference
– May 14/15 @ Chimelong Bay Hotel
We have 17 Rotarians including spouses and children joining coming weekend District Conference at Hengqin Chimelong Bay Hotel . As of now, we are  ranked within the Top 5 participating clubs so truly thankful to you all for joining me there.
During Day 2 Foundation Lunch , there will be a recognition banners presentation to Rotary Year 2014-15 :-
-EREY/100% Rotary Foundation Sustaining Member Clubs and
-Polio-Plus contributing clubs
which RC Macau Club is qualified for both. We look forward t sharing with you in the next club meeting. 
Thank you for your patient reading and look forward to seeing most of you
this Thursday
(
May 12
) at Macao Tower.
Yours in Rotary
Elizabete Fong

President