Welcome to the 21
st
weekly update!This Thursday, December 3, we are going to induct a new member. José Alves was proposed by our Treasurer Ricardo and unanimously approved by all our Rotarians.Register on the WhatsApp group and join us on December 3, to welcome our newest member.On Thursday, November 26, we tried a new potential venue to welcome our Club's Regular Meetings: the Baccarat room at Sofitel Ponte 16.
Besides our Rotarians, we also welcomed Alumni Dorothy and guest Kenny, Katherine, guest of PP Choi & Stella, and Rosa and Kit, guests of PN Li Ying.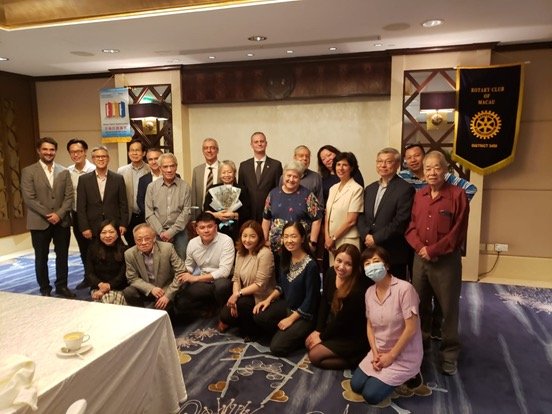 The overall comments on the venue, service and food were positive with just a few negative remarks on the main course which all of us felt it was a bit too salty.
As you all know, the COVID-19 Pandemic has been causing havoc around the world.One of the areas being severely affected is Mongolia, which is part of District 3450.DG Eric is asking all Clubs in the District to support Mongolian Rotarians to fight against the Pandemic.Therefore, we decided that the proceedings of the box collection on November 26, would go towards a fund to help Mongolian Rotarians.
Thanks to the generosity of all our Rotarians, we were able to reach $5,000 HKD, which was our goal.Our donation was already transferred to the District, thanks to the support of PP Liz, who is still in Hong Kong.
Box collection produced an additional $2,000 MOP which will be kept as a donation to the Cradle of Hope, the institution which will receive the proceedings of the "Rotary Sing For Fund" online concert which is scheduled to take place on December 19.During our meeting, we also listen to PP Stella sharing about her health condition.We wish PP Stella a speedy recovery and she knows that our hearts and minds are with her in this difficult moment.
Joy to the World Xmas Party – Tropical Garden will take place on Sunday, December 6, at the Crown Plaza Hotel, which is located in the northern part of Macau, very close to the Pearl Roundabout.This venue can only accommodate a maximum number of 300 people. Our priority was to maximize the number of service users allowing them to enjoy the Xmas atmosphere and a well-spent afternoon.Therefore, we only have a total of 13 seats available for our Rotarians.Please understand that, unlike in the previous years, we will not be able to extend the invitation to our families.Even if we only have 13 seats available, we welcome more Rotarians to join as volunteers, helping the service users to be seated, distributing gifts at the end of the event and, of course, singing Xmas Carols.Registration will start soon.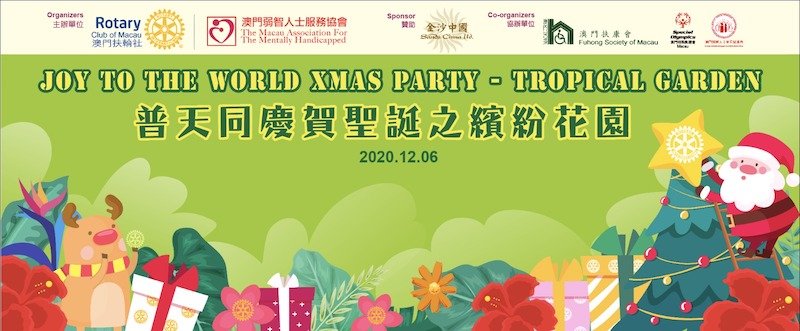 As you all know, our Club was unable to hold the Charity Annual Ball in the first half of the year.Therefore, we are asking our members to make a one-off donation of MOP 3000 to finance the Club's projects.Most of our Rotarians have already paid this one-off donation, as well as the Club Dues.Alternatively, you may also do it via bank cheque or cash by coming to our Regular Meeting.
Your commitment will enable the Club to go ahead with some of the projects which are at the core of the Rotary Club of Macau activity throughout its 73-year-long history.
Yours in Rotary President João