Press Release –"Silver Screen" Rotary Club of Macau 72nd Anniversary Charity Ball
rcmacau.org
For Immediate Release
March 29, 2019
For Media enquiries please contact Rotary Club of Macau>
Synthia Chan
Public Image Chair
(853) 6669 3366
(Macau, SAR) Rotary Club of Macau's 72nd Anniversary Charity Ball was held at The Venetian Macao early March 2019. More than 400 attendees responded to the theme "Silver Screen" not only by playing their screen stars but contributing generously to funds for Rotary Club of Macau's many service projects. Mr. Elvo Sou, President 2018/2019 of Rotary Club of Macau says during his opening speech:
We say "Life is like a movie!" What is a good movie? To me, a good movie is one that brings me happiness and inspires me. Then what is a good life? A good life is one that brings other people happiness and inspires others. That is the life of Rotarians! Being the first Rotary Club in Macau, our members have been bringing happiness to underprivileged students, children with special needs, home-alone elderly and many others through our service projects over the past 72 years. At the same time, we are inspiring our next generation to serve the community as we groom our Rotaractors and Interactors to be the future leaders of the society.
Mr. Elvo Sou, President 2018/2019 of Rotary Club of Macau at his opening speech.
The Rotary International Theme this year is "Be the Inspiration" and at his welcome speech, President Elect IP Fai says:
Among so many movies produced each day, there must be some you enjoyed with laughter or tears, and you will remember them for years. In  special movies, the characters or their dialogue inspired you. Such inspiration may have great impact in your career or even in your life, and possibly changed YOU! As a Rotarian, we are striving each day for equality and peace among people in order to make a better world. Therefore, inspiration is indispensable. We come together to talk and listen to each other in our meetings, hoping to inspire or to be inspired so that we can have new ideas to serve the community.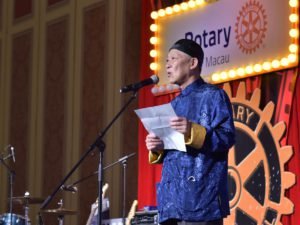 Ball Chair and President Elect IP Fai welcomes the guests and sponsors.
This year the Rotary Club of Macau extended their involvement with the youth by the formation of their first Interact Club, collaborating with school students from St Paul's School.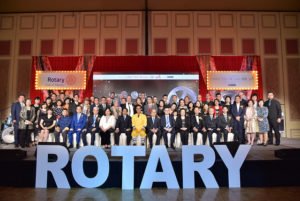 Rotarians gather for the group photo before the party get off to a swing.
Ball Chair Ip Pui Fai took this opportunity to express his gratitude to all sponsors. "Your support is of paramount importance to us for carrying out our service projects".
Dancing to the music of Dreamcast
Rotary Club of Macau has many years of support for children with special needs, including Christmas Party for the children and family; support for education in the mountainous area in Guangxi; day trips and dental care for the elderly; Blood Donation Day; educational support for underprivileged students in Macau; and environmental support through their new project Clean Macau.
Joining the Ball District Governor YC Ho (foreground) in discussion with Past District Governor Ada Chang, Past President Fatima Ferreira and President Elvo Sou.
The Rotary Club of Macau was chartered in 1947 and is composed of professionals from different walks of life in Macau's society. English is the working language for Club meetings and proceedings to accommodate the 21 nationalities present among the Club members, who in total speak 16 different languages.
As in previous years, all funds raised during the Charity Ball will be donated to the various service projects.
Drawing a winning ticket, Assistant Governor David Ho and President Nominee Joao Pinto
Rotarians enjoy the closing moments of the Annual Ball