Rotary Club of Macau  visited Santa Maria Elderly Home this Wednesday, 18th January at 2:30pm. Dr. Kevin Lei and Dr. Choi and Dr Michael Chan  perform the last dental check and treatment before the Chinese New Year so that the elderly women might be able to enjoy their Chinese New Year meals better with their new dentures.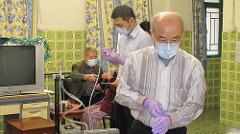 In view that it is close to the Chinese New Year, we also brought them presents on Wednesday. The elderly home suggested that we might bring them washing towels instead of hats and scarfs which most of them have a few already. There are around 110 patients in the elderly home. We also to gave them Laisees (red packets), which was well received.
"Real Happiness is Helping Others" – RI Theme 1992, the year when I was inducted.
Yours in Rotary,
Stella
For many the fitting of dentures was a joy, one patient told us she could not leave the 2nd floor and the dentist could not visit. On Wednesday with the help of our portable dental equipment we made a real difference for many of the elderly. Our three dentists have been hard at work to provide them with new teeth and to improve the quality of their lives.
The dental equipment was purchase by Rotary Club of Macau and with the aid of the Macau Foundation. The equipment is used both for the needy in Macau and on our field trips to Du'An County to visit the minority tribes.
President Keith wishes the patients a Healthy and Prosperous New Year, and Club members distribute laisee and gives to all the floors of the hospice. Many people there are not well enough to get out on their own but were very pleased to be visited and enjoyed the gifts and Red Packets.