Last Thursday, we received several guests in our Regular Meeting.
Among them were Asako & Andrew, Rotarian Yuko guests, and Jess & Evonne, guests of President Joao.
Asako told us about her complicated return trip to Macau after graduating in Hawaii, and her quarantine upon arrival.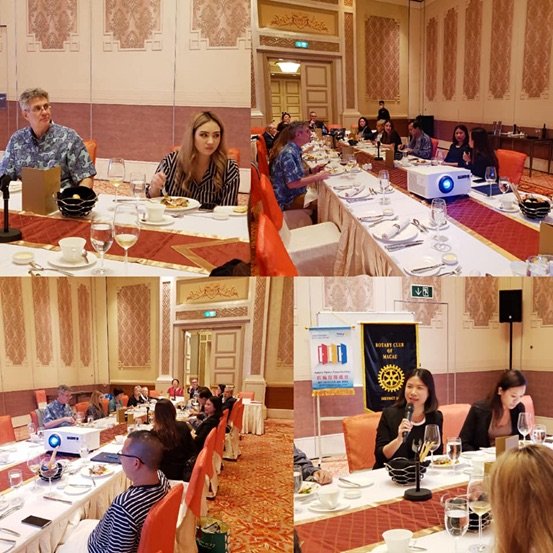 During the meeting, there was some good news about a key Rotary International project: the fight to end polio around the world.
Just a few days ago, the World Health Organization announced that transmission of the wild poliovirus has officially been stopped in all 47 countries of its African region.
This is a historic and vital step toward the global eradication of polio, which is Rotary's top priority.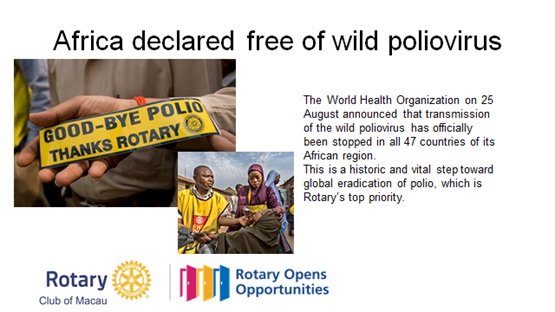 However, the disease is still active in countries in the Asia-Pacific region such as Afghanistan and Pakistan.
The Rotary Club of Macau will continue to be engaged in the fight to end polio and we will hold our annual fundraiser in late October.
I would also like to talk about the PI Seminar which is scheduled to take place next Saturday.
It is still possible to register, therefore, please do it no if you have not yet done so.
The District PI Seminar will be exclusively online and will feature a very interesting workshop by a professional photographer who will teach us how to take good photos for the upcoming People Of Action Photo competition, which is going to be officially launched during the PI Seminar.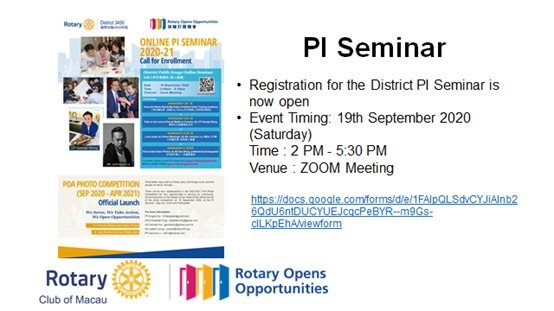 As you all know, PE Matthew brought the proposal to have our Club engaged in the project to rebuild a school, destroyed by an earthquake, in Nepal.
We have already transferred our donation of USD 5,000 to the Rotary Club of Pokhara Fishtail which is our partner in the project.
It is good to see that we can help with the education and literacy of children in places such as Nepal.
On Saturday, September 12, the Rotary Club of Macau and The Rotary Club of Penha, Macao co-organized "Wholehearted Services for Harmonious Macau, Rotary Donation to People in Need" with Caritas Macau which provided baby formula and diapers to about 30 unemployed Vietnamese and Filipino migrant worker families with newborn babies (from a few days to 9 months old).
Due to the socio-economic impact of the COVID-19 pandemic, 10,700 non-resident workers have lost their jobs from January until August according to official statistics, Some of them are still unable to return to their countries of origin due to the lack of flights and border restrictions. They have been left out of the support measures of the Macau SAR.
Among them, those pregnant women or newborn mothers can neither afford antenatal/postnatal care nor items needed for feeding their babies. Some of them have shown symptoms of anxiety, malnutrition, and miscarriage.
A short article with lots of photos (https://rcmacau.org/support-with-caritas-for-the-migrant-mothers/) is already published on our website under Projects.
And here is a useful link to the shortlisted photos on Flickr:
I would like to thank all our Rotarians, Rotaractors, and Interactors who took part in the meaningful project.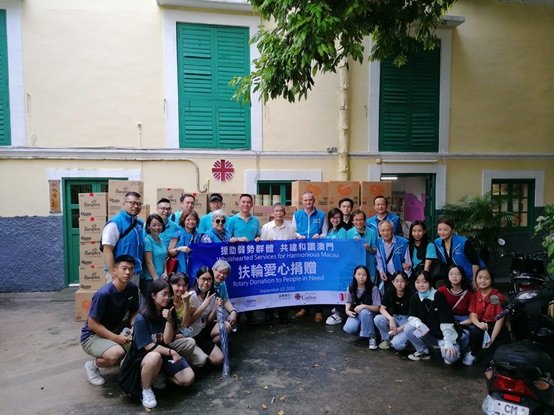 Meanwhile, we are working on the organization of the Mid-Autumn Festival Celebration which will take place on September 24 at the Roosevelt Hotel's Chinese restaurant.
You, your spouses, and families are welcome to join and may register for this meaningful celebration on the Club's WhatsApp group.
As you all know, our Club was unable to hold the Charity Annual Ball in the first half of the year.
Therefore, we are asking our members to make a one-off donation of MOP 3000 to finance the Club's projects.
This one-off donation, as well as the Club Dues, can be transferred directly to the Club's BNU bank account.
Alternatively, you may also do it via bank cheque or cash by coming to our Regular Meeting.
Your commitment will enable the Club to replenish its coffers and go ahead with some of the projects which are at the core of the Rotary Club of Macau activity throughout its 73-year-long history.
Yours in Rotary
President João